Luxury real estate
Barcelona · Sitges · Maresme
PREMIUM HOUSES is the leading real estate agency on the Coast of Barcelona, ​​with a large portfolio of more than 1,000 properties spread across its 100 km of coastline and in the best areas of Maresme, Barcelona and Sitges/Garraf.
We are specialists in the middle and high segment of the market. We advise, intervene and accompany our clients in each and every phase of the purchase-sale or rental process.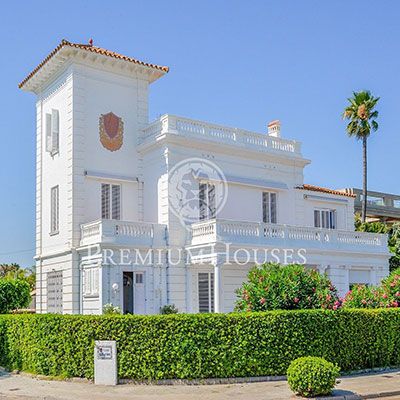 High standing properties
in the best areas of Barcelona and surroundings
Sell property
Do you know the value of your property?

Consult without obligation with the best real estate agency on the Costa de Barcelona. A Senior Advisor will accompany you throughout the process until the sale or rental of your property has been successfully completed.
Our clients' opinions
I've bought and sold several houses over the years and without a doubt Lluís and his colleagues are the most communicative agents I've worked with. Nothing was too much trouble and post purchase I have still had all my calls returned and Lluìs has been willing to help with a couple of queries that came up many weeks after the deal was done. I would be happy to recommend them
Premium Houses Sitges
Excellent experience with Premium Houses. Ana Balcells is a highly qualified professional, very efficient, on top of every details, and charming. She helped us through all the process of buying a home in Spain. From day one until the last day that we got the keys of our beautiful home she was by our side making sure everything was perfect. Outstanding experience. Also, Mayte's helpfulness and efficiency was excellent.
I would recommend to any person coming from abroad who would like to invest/buy in Spain, specially in the Maresme, to work with Ana Balcells and her team.
Premium Houses Llavaneres
Patricia Africa Iglesias Martínez
Alquilar una casa suele ser una experiencia estresante que a veces te crea muchas dudas. Pero desde el principio, y gracias a la confianza que nos transmitió Juan Luis, nos hemos sentido seguros y tranquilos. Su trabajo es impecable y se trata de un profesional honesto que entendió desde el minuto 1 nuestras necesidades. Su experiencia en el ámbito inmobiliario y su visión crítica hizo que encontrásemos al inquilino perfecto en apenas 3 meses.
Así que si buscáis una persona de confianza, con una buena cartera de clientes de alto nivel y una profesionalidad incuestionable, no dudéis en contactar con él.
Premium Houses Barcelona
Je suis très content des services de l'agence immobilière. Merci à Merce pour son professionnalisme durant la vente de l'appartement et la rapidité pour vendre l'appartement. Je recommande sans hésitation.
Premium Houses Sitges
Un equipo de primera: con buenas profesionales y amables. Mayte, Zian, y demás colaboradoras con la dirección de Ana hacen que todo el proceso de venta de una casa sea más llevadero y seguro.
Premium Houses Llavaneres
Nuestra experiencia con premium houses Alella ha sido excelente. Son muy profesionales, sensibles y se adaptan perfectamente a las necesidades y situaciones personales de sus clientes para conseguir encontrarles lo que buscan. 100% recomendable!!
Premium Houses Alella
Anna de Premium Houses heeft een zeer goede professionele benadering en is zeer betrokken in het vinden/ verkopen van een woning en alles er omheen (de kennis van de spaanse wetgeving, al het papierwerk , de nazorg etc) Kortom; Premium Houses is een uitstekende partner. Anna; super bedankt voor alles!
Premium Houses Sant Pol de Mar
Muy buena experiencia. Trato excelente desde el primer momento. En especial, mostrar nuestro agradecimiento a Lali, gran profesional, amable, atenta, competente, eficiente, cercana, nos ha ayudado muchísimo. Enseguida entendió lo que buscábamos y no ha parado hasta encontrarlo. Cualquier duda, inquietud, nos la ha resuelto con total transparencia y en la mayor brevedad posible. Su gran profesionalidad nos ha hecho confiar plenamente en ella y estar tranquilos en todo momento.
Nos facilitó el contacto una amiga y hemos quedado encantados. Antes de conocer Premium Houses visitamos otras agencias, y puedo asegurar que ninguna como ellos.
Gracias por tan buen trabajo!
Premium Houses Alella
Nos pusimos en contacto con Premium Houses nos atendió Ana Balcells. Desde el primer día quedamos encantados con ella, siempre se preocupó por nosotros, nos atendió sobre las dudas, etc.
Nos dijo que la venderíamos y acertó. Encontró el cliente perfecto para la casa, se preocupó de todo el papeleo, etc. Gracias Ana Balcells al final más que amigos terminamos siendo casi familia. Premium Houses unos grandes profesionales. Un 10 sería poco, le daríamos un 100.
Premium Houses Barcelona
Encantados, nos vendieron el piso en 12 días, se han ocupado de todo y el trato excelente, muchas gracias Isaure. Totalmente recomendable.
Premium Houses Sant Pol de Mar

See all opinions
Would you like to receive our latest listings on your inbox?